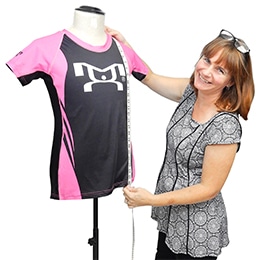 Job Title
Director of Operations
How did you get involved with MyHOUSE
I applied for a screen-printing job with MyHOUSE in 2012. I had a strong art background but no real screen-printing know-how. I was turned down for that position but was offered another...Designing and Selling fight shorts. I took Tim up on that offer, I was MyHOUSE Sports Gears first real employee and have worked for him designing and selling wrestling apparel ever since.
What's your favorite part of the job
Putting my final stamp of approval on a new apparel item and seeing all the hard work that goes into each item pay off. I also love to see our custom gear on teams competing at events all over the country and I never get tired of hearing how everyone loves it!
What do you like to do when you're not working
I love spending time with family and friends, listening to live music and doing just about anything outside.
What are 2 FUN FACTS about you
When I was 12 years old, I was a 2nd-degree black belt in Karate. I have painted several large wall murals in people's homes and have created the sets for lots of school plays.